11941 W Marina Drive #45, Fort Myers, FL 33905 detailed description
Commercial property for sale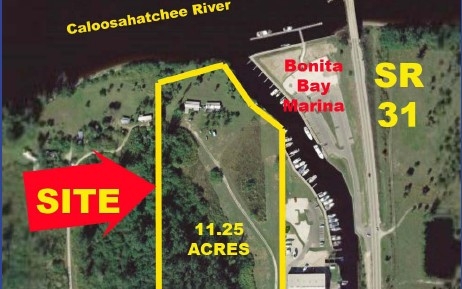 11941 W Marina Drive #45, Fort Myers, FL 33905
Loading...
Description
Beautiful 11.25 acres property located in East Fort Myers along the Caloosahatchee River, which connects the Gulf of Mexico to the Atlantic Ocean. Suburban land use category permits up to 6 units per acre (up to 66 units) and allows mixed use and commercial through CPD Commercial Planned Development process or rezoning. Zoned AG-2. Adjacent to an active marina which provides dockage and marina services. Near the Lee Civic Center, shopping, restaurants and several new residential communities. This parcel is an ideal location for commercial, residential or mixed use. Building price details: $5,950,000.
Property Details

| | |
| --- | --- |
| Property Type: | Land |
| Use Types: | Hospitality, Multi-Family, Vacation/Resort, Other |
| Status: | Available |
| Price: | $ 528,889 +/Acre |
| Lot Size: | 11.250 Acres |
| MSA: | Cape Coral-Fort Myers |
| Terms: | Cash to Seller |
| Added: | 08/24/2011 |
| Last Update: | 01/08/2013 |

Contact info
941-302-0732 [Office]
Note

Details Info about this row that located on 11941 W Marina Drive #45, Fort Myers, FL 33905 was got from trusty sources, but Florida Condo Auctions can't guarantee that details about listing price, status, facts, images and owner are correct, because this listing can be changed or removed from market without notice. If You need to receive additional details about this property try to ask directly listing agent or owned.

If you see any error or mismatches on this page – click here.