4900 Clark Road, Sarasota, FL 34238 detailed description
Commercial property for sale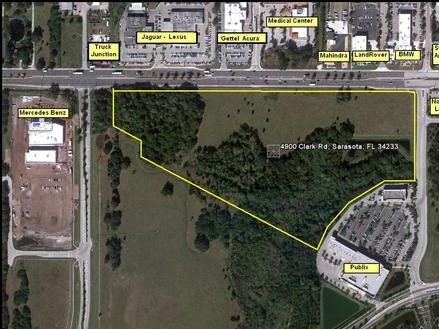 4900 Clark Road, Sarasota, FL 34238
Loading...
Description
The last larger land parcel in the Clark Road corridor with 1,873 linear feet of direct frontage on Clark Road. 28.8 acres total land area before reduction due to wetlands and preserve areas. Net developable area is 11-13 acres mol. Land is located one mile west of I-75 within the Palmer Ranch Master Planned Community in the Palmer Park of Commerce Subdivision. Zoning is industrial light with the following commercial applications: "Big Box" retail, offices, banks, restaurant/drive-through, convenience store and gas station, automotive sales and services, wholesale, commerce/industry/trade uses and business-to-business support type uses allowed. Nearby businesses include, Publix, Baer's Furniture, CVS, Walgreens. Banks and several car dealerships including Lexus, Jaguar, Mercedes Benz and Land Rover. Building price details: $8,750,000.
Property Details

| | |
| --- | --- |
| Property Type: | Land |
| Use Types: | Retail-Commercial, Industrial |
| Status: | Available |
| Price: | $ 303,819 +/Acre |
| Lot Size: | 28.800 Acres |
| MSA: | North Port-Bradenton-Sarasota |
| Terms: | Cash to Seller |
| Added: | 02/07/2012 |
| Last Update: | 01/08/2013 |

Contact info
941-780-4623 [Office]
See also
Note

Details Info about this row that located on 4900 Clark Road, Sarasota, FL 34238 was got from trusty sources, but Florida Condo Auctions can't guarantee that details about listing price, status, facts, images and owner are correct, because this listing can be changed or removed from market without notice. If You need to receive additional details about this property try to ask directly listing agent or owned.

If you see any error or mismatches on this page – click here.