SR 52 and Colony Lakes Blvd, New Port Richey, FL 34654 detailed description
Commercial property for sale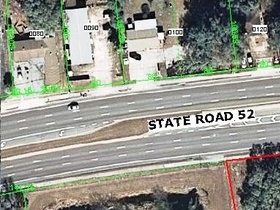 SR 52 and Colony Lakes Blvd, New Port Richey, FL 34654
Loading...
Description
This property is located on a high visibility corner on a major east/west corridor in Pasco County. State Road 52 is a 6 lane divided highway carrying traffic to and from the county seat in Dade City. There is a median break in front of the site allowing for convenient cross highway access. This property is ideally located for virtually any type of commercial business having zoning of C-2 general commercial and is a corner property at the entrance to a residential development, with 268
Property Details

| | |
| --- | --- |
| Property Type: | Land |
| Status: | Available |
| Price: | $ 205,035 +/Acre |
| Lot Size: | 1.390 Acres |
| MSA: | Tampa-St. Petersburg-Clearwater |
| Zoning: | C2 |
| Terms: | Cash to Seller |
| Added: | 11/12/2012 |
| Last Update: | 08/20/2013 |

Contact info
Charles R. Grey: 727-849-2424 [Office]

See also
Note

Details Info about this row that located on SR 52 and Colony Lakes Blvd, New Port Richey, FL 34654 was got from trusty sources, but Florida Condo Auctions can't guarantee that details about listing price, status, facts, images and owner are correct, because this listing can be changed or removed from market without notice. If You need to receive additional details about this property try to ask directly listing agent or owned.

If you see any error or mismatches on this page – click here.